I would like to take this post to think the beautiful and multitalented Stephanie for making Steve and Lando's On The Go Web Show some sweet graphics! I'm so happy with how these turned out and she has completely met all my expectations. Thank you so much Stephanie!
I'm gonna post one of these every day just because I don't like posting tons of crap all at once. Here's the first one, which we'll use for the main logo, at least at the moment. These things always change with time.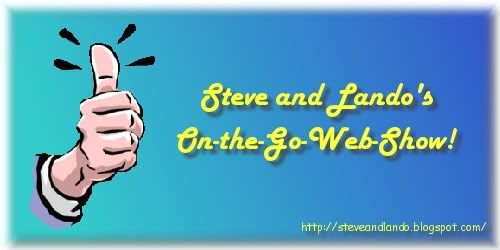 I Love this thing!! It's so perfect and it works totally with the personality of the show! Come on and join us weekly for the podcast and send us email! We want to talk to you too! So send us an email at steveandlando@gmail.com. Also, for those of you who haven't downloaded iPodder, just go manually download the files at steveandlando.blogspot.com. Keep coming here for info for now, but that is where the files will be found. Rock on!